The most successful companies recognise the critical role of effective leadership, strategic planning and communication in achieving organisational goals and maintaining a competitive edge in the marketplace.
Having a clear, robust and results driven business strategy is a fundamental cornerstone to a company's success.
Every industry and sector needs to set aside time to be strategic. Time to work on the business and not just in the business. To reassess your business offering, USP, value proposition & route to market. Planning your growth is not just critical to the success in selling your business BUT to ensure also the survival of your business at times of challenge and change.
However, for many business owners and entrepreneurs, the time set aside for strategic planning gets dwarfed by the day to day business operations. As a result work-flows, decision making and business plans under perform and your competitive edge starts to erode.
The aim of the programme, which takes place at the CoLab Building at the ATU Campus in Letterkenny, is to assist Owners/Managers/Entrepreneurs to better lead within their business with a focus on Leadership, Strategy and Communications.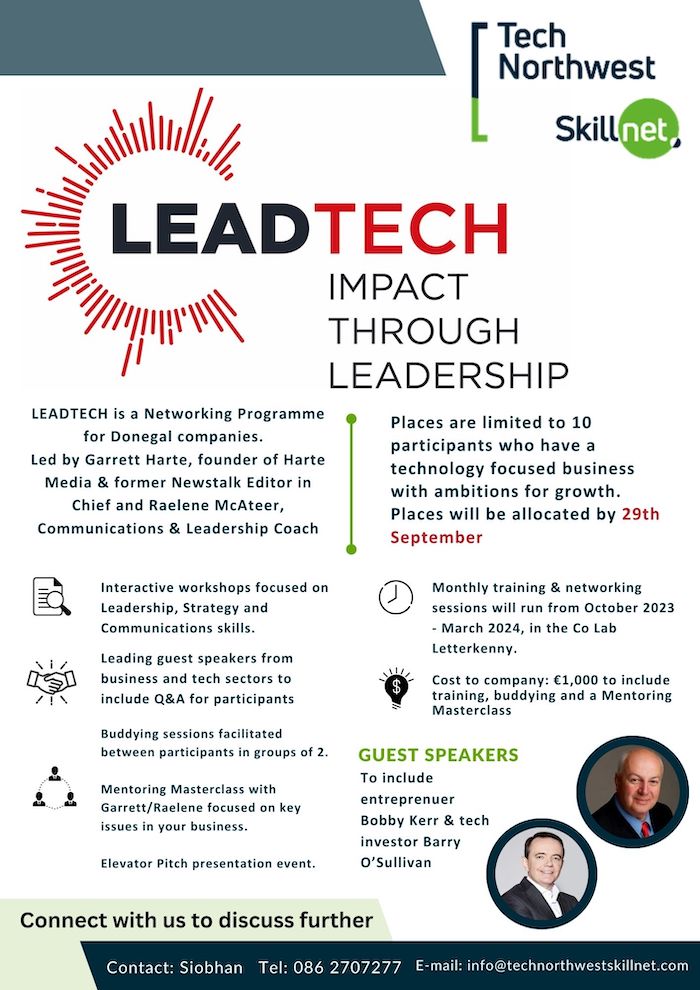 The training programme will cover the following areas:
Leadership practices, effective communication skills, strategic planning and execution
There will be six workshops from Oct2023 to March 2024, one per month with buddying sessions taking place on a monthly basis also with a total of 6 workshops and 5 buddying sessions in total.
Six Workshops
·   Theory, real life examples and exercises involving interaction from all
·   Accountability element where each participant reports on progress
·   Follow on sessions immediately after end of workshop if urgent issues arise
Buddy Sessions
·   5 Buddy groups of 2 will be set up in association with TNW Network Manager
·   Buddy sessions will take place on a monthly basis
·   Trainers will join each Buddy group by zoom to 'check' progress/issues
·   Each Buddy group to give feedback at workshops
It is envisaged that the workshops will use real to life scenarios to aid the delivery of the content, allowing the participants to be challenged on their specific needs.
At the final workshop, each participant will be asked to present their Action Plan to a panel of experts.

Guest speakers to include:
Barry O'Sullivan
Tech investor and co-founder of the Irish Technology Leadership Group, a group of top Irish American technology executives. Barry O'Sullivan is a Senior Advisor with Permira, a global private equity firm with over $80 Billion in assets under management.
Bobby Kerr
Presenter of 'Down to Business', Newstalk's weekly business show. Bobby is also founder of Insomnia Coffee and former Dragons Den judge.
The LeadTech programme is led by Garrett Harte, founder of Harte Media, a strategic communications advisory firm based in Dublin specialising in reputation management, media relations, strategic communications and public affairs.
Garrett is a media, communications and business development expert with over 25 years' experience working with clients in Ireland and overseas. Garrett is the former Editor in Chief of Newstalk and during this time has mentored a host of leading Irish broadcasters including Ivan Yates, Claire Byrne and Pat Kenny. Garrett also coached scores of producers, researchers and reporters, many of whom are key leaders in Ireland's broadcast media today.
Raelene McAteer
Raelene is an international leadership communications coach. Originally from Donegal, she has spent over 20 years living and working across Europe, the USA and Asia.
With a background in International Marketing and Project Management, she now provides coaching, training and facilitation to leaders from start-ups to Fortune 500 companies.
'LeadTech – Impact Through Leadership' training programme is coming to Letterkenny was last modified: September 14th, 2023 by Staff Writer