Sensei Mary O'Neill of the Donegal School of Shotokan Karate club was in action at the Mayo Karate Championships last week, where she received a warm welcome.
It was Sensei Mary's first time officiating at a National Championship competition in both kata (form) and kumite (fighting).
Sensei Mary expressed her gratitude to Colin Friel from T.S.K. Ballaghderreen for his amazing direction and building her confidence. With the help of other experienced national referees, she felt more comfortable and learned a great deal about refereeing in both categories. Despite the challenges she faced in the kumite category, Sensei Mary learned valuable lessons of focus and speed which helped her improve her refereeing skills.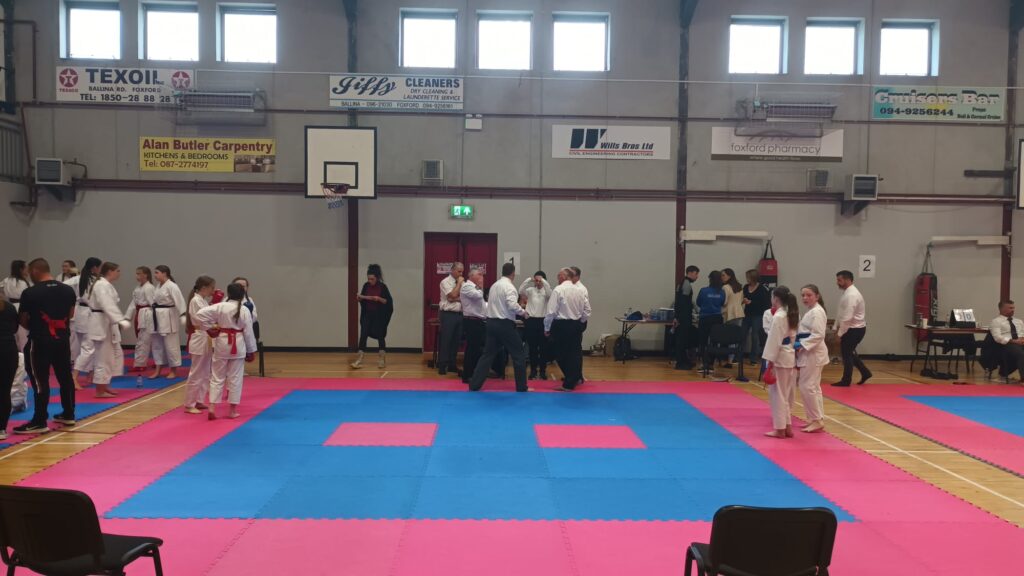 The competition brought together participants from different regions, including Sligo, Dublin, Galway, Mayo, and other parts of Ireland. The high level of skill displayed by the participants made the competition even more competitive.
Sensei Mary also participated in the individual advanced kata category for the first time in 20 years and proudly took home the bronze medal. Gerard Foley from Letterkenny Shotokan Karate Club, who accompanied Sensei Mary to the competition, won silver in his kata category. At a last minute decision, White Tigers requested Mary to enter the team kata. Mary managed to persuade Gerard (being a yellow belt) to join the two black belts and entered the team kata category as an inter-club team, boasting two different styles of karate, an unusual combination but amazingly brought back a bronze with no prior practice.
The competition was a memorable and motivating experience for everyone involved. Sensei Mary had the opportunity to support a fellow club, gain experience in refereeing, and showcase her dedication and skill in front of participants from various areas. The event left everyone feeling accomplished and motivated for future competitions. Congratulations to the club on their achievements!